2023 Spring/Summer
Feel the energy of the sun with the 2023 Spring/Summer collection! Enjoy the elegance regardless of time and place, with original and comfortable designs adorned with colorful bold lines and extraordinary patterns.
START SHOPPING
Home textiles
Everything you are looking for to add a colorful, fun and elegant dimension to the decoration of your home, to crown the feasts on your table with rare linens, or to turn your bedroom into that special place of your dreams.
START SHOPPING
Accessory
Regardless of your purpose, whether to complement your elegance or to bring happiness to your loved ones, you can find the complementary details you want in our accessory options.
start shopping
All the products you are looking for, in the same frame!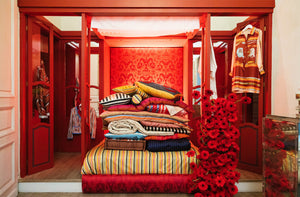 Zeugma Collection
In the collection inspired by the splendor of the rich Zeugma mosaics, you will find unique pieces that defy time, where artistic details unique to Zeugma, which have survived from ancient times to the present, are combined with comfort, design and elegance.
Marine Collection
Enjoy the sea season with the elegant, comfortable and eye-catching Marine collection.
"It represents a legacy of historical fabric, culture, emotions and experiences."